Products and Services
Traffic Management Solutions

Traffic Management Solutions
Road Traffic Signal Controllers
Safe and Smooth Traffic Control
Road Traffic Signal Controllers provide safe and smooth road traffic by conducting road traffic control in accordance with the time of day and the road traffic conditions, and also perform advanced road traffic control to eliminate road traffic congestion. Suitable also for crosswalks with multi-information displays, they are replete with many additional functions.
The benefits of Autonomous Distributed Signal Control, an autonomous distributed signal controller developed by the Company, have also been recognized in various overseas countries that have adopted it.
Autonomous Distributed Signal Control Functions
Autonomous distributed signal control is an environmentally-friendly road traffic signal controller that relieves road traffic congestion and contributes to the reduction of CO2 and nitrogen oxide emissions.
With a typical road traffic signal controller, the length of time that the traffic light is green is determined at the traffic control center based on past road traffic data measured by vehicle sensors. With Autonomous distributed signal control, however, the road traffic signal controller itself determines the optimum period of time for the light to remain green in real time by means of road traffic signal controllers positioned at intersections exchanging information among themselves.

Road Traffic Signal Controllers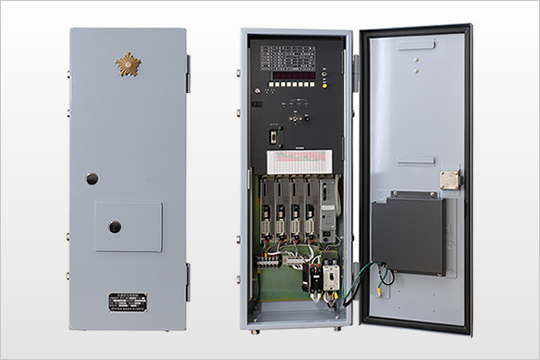 Waterproof Road Traffic Signal Controllers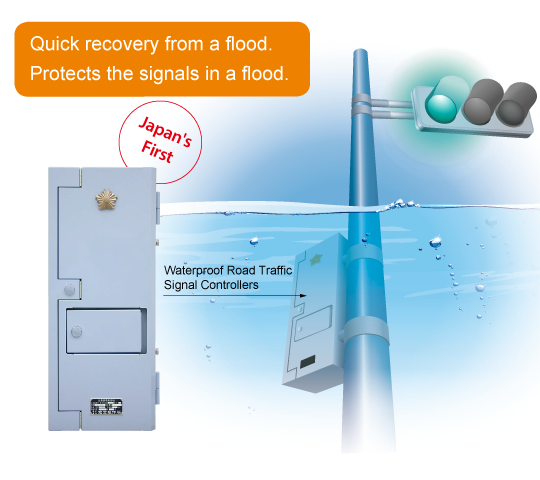 Disaster Prevention-type Road Traffic Signal Controllers
These are traffic signals equipped with a special function that display a red light to prevent cars heading for the city center from approaching it in the event of a major earthquake.